Bitcoin Hodlers Remain Steadfast, Coins Aged over 3 months Hit ATH of 86.3%
Bitcoin lacked a significant upward momentum, but this has not dampened the spirits of hodlers because coins aged at least 3 months hit an ATH of 86.3%, according to Glassnode.
Based on BTC Realized Cap HODL Wave, the market insight provider pointed out:
"Coins aged 3m+ now account for an ATH of 86.3% of all USD wealth held by the BTC supply. Bitcoin hodlers appear to be steadfast and unwavering in their conviction."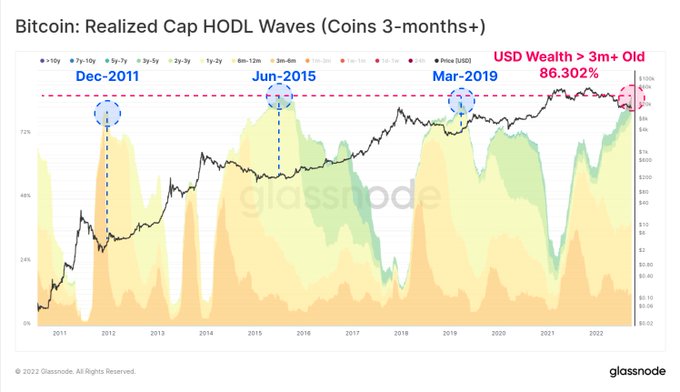 Source: Glassnode
Glassnode added:
"The total volume of Bitcoin coin-days destroyed in the last 90-days has, effectively, reached an all-time-low. This indicates that coins which have been hodled for several months to years are the most dormant they have ever been."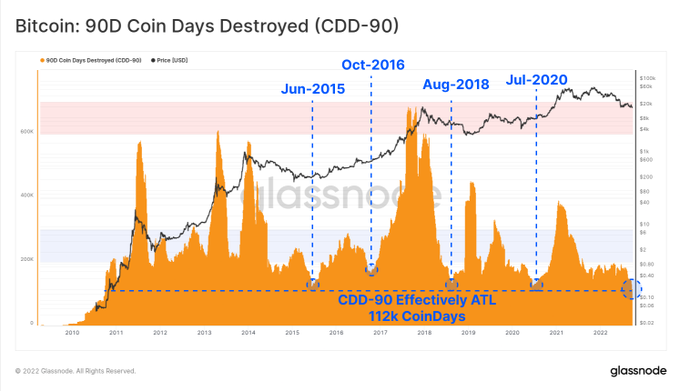 Source: Glassnode
Hodling is among the favoured strategies in the crypto scene because coins are held for future purposes other than speculation. Glassnode stated:
"Number of BTC addresses holding 0.1+ Coins just reached an ATH of 3,824,449. Previous ATH of 3,824,379 was observed on 25 September 2022."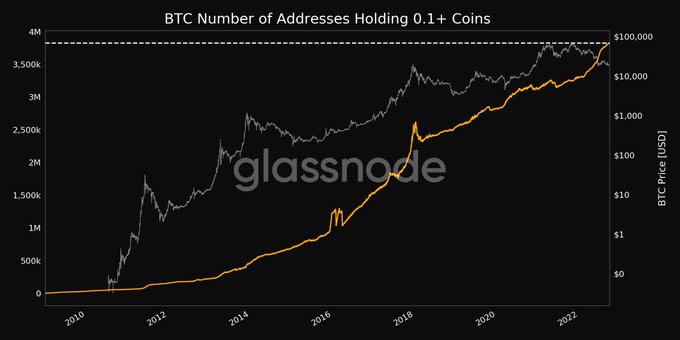 Source: Glassnode
Therefore, BTC hodlers are not relenting in their conviction despite the top cryptocurrency trading on shaky grounds based on factors like tightened macroeconomic conditions. 
Bitcoin was hovering around $18,895 during intraday trading, according to CoinMarketCap. 
Meanwhile, Michael Saylor, the co-founder of MicroStrategy, recently opined that Bitcoin was 100x better than gold despite the market drawdown. He, therefore, expected BTC to emerge as the next big store of value. 
"I think that the next logical step for Bitcoin is to replace gold as a non-sovereign store of value asset, and gold is a $10 trillion asset as we speak. Bitcoin is digital gold; it's 100x better than gold," Saylor said.
Image source: Shutterstock