Ether's Net Issuance Dropped from Over 4% to 0.21% Last Week
Ethereum (ETH) has enjoyed a rollercoaster ride this quarter by hitting historic highs in its 6-year journey.
The second-largest cryptocurrency based on market capitalization recently reached an all-time high (ATH) of $4,860, thanks to diminishing supply on its network.
Data analytic firm IntoTheBlock explained:
"A potential reason behind ETH rally is its decreasing supply. Since the deployment of EIP-1559, most of the Ether used as transaction fees has been burned or removed from circulation. Ether's net issuance has dropped from over 4% to an average of just 0.21% this week."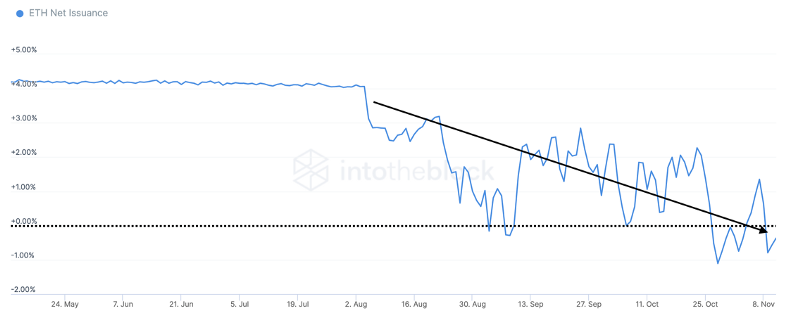 Ever since the London Hardfork or EIP 1559 upgrade went live on August 5, Ethereum has become deflationary because its value continues to increase with time on the foundation of slashed supply. 
This improvement introduced scarcity on the Ethereum network every time Ether is burnt after being utilized in transactions. Therefore, this upgrade was meant to eliminate the inflationary tendencies this network was accustomed to before.
The dividends seem to be paying off because Ether worth more than $3 billion has been burned so far, causing a supply deficit. 
The supply squeeze on the Ethereum network has been going through the roof based on a couple of reasons. For instance, more than 8 million ETH is locked in decentralized finance (DeFi), and at least 8.2 million ETH has been staked in Ethereum 2.0 deposit contract. 
Ethereum's address activity surges by 48%
According to on-chain metrics provider Santiment:
"Ethereum's latest address activity is up about 48% since the number of unique ETH addresses bottomed out in late September."
This, coupled with the fact that the number of non-zero ETH addresses hit a record high, shows that more participants are joining the Ethereum network. 
Image source: Shutterstock